« I'm with Syria. Innocent children need our help »

On Twitter, footballer Cristiano Ronaldo international, who plays as a striker for Real Madrid since 2009, has supported children Syrians. Children who are the first to suffer the siege that lasted three years.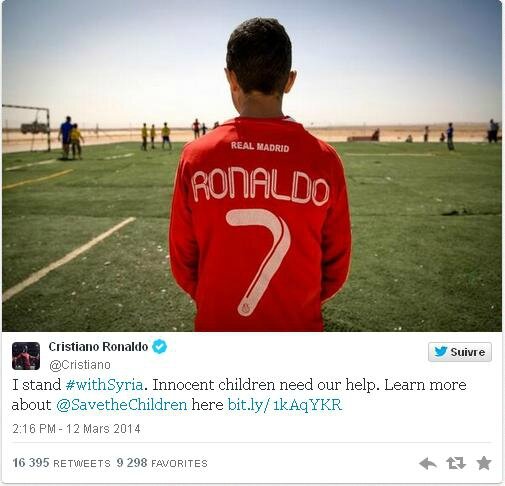 5.5 million child victims in Syria

Killed. Wounded. Traumatized. Displaced. Refugees. Orphans. The number of child victims in Syria is estimated at 5.5 million.

A UNICEF report draws the attention of the international community to the suffering experienced by children and their families for months, were blocked in areas under siege. Cut of any assistance, living in rubble and struggling to find food, many Syrian children are left without protection, without medical care, without counseling and without access, or barely, education.

In the most extreme cases, children and pregnant women were intentionally injured or killed by snipers.
In host countries, there are now 1.2 million children Syrian refugees living in camps and host communities overwhelmed and they have limited access to clean water access, a nutritious food or the opportunity to study.
Shared more than 15,000 times in a few hours tweet
In his tweet, Cristiano Ronaldo refers to the British NGO Save the Children whose thirty minute video describing a childhood face the horror of war in Syria is the buzz.
Seen by nearly 25 million users in a week, to raise funds to help the victims of this bloody conflict that has claimed more than 140,000 lives since March 15, 2011 Video aims.